Healthy Habits for the Future of Work
Elevate your team's wellbeing and productivity with the world's first online tool that automatically facilitates wellbeing activities - experienced digitally, instructed by superstars

Start creating Healthy Habits like 100s of hybrid teams from workplaces like
ADDRESSING THE PROBLEMS OF A HYBRID WORKPLACE
Shaping sustainable working lives for hybrid teams
Hybrid works makes it hard for teams to stay close. Pleaz reconnects your workforce, leading to higher productivity, engagement, and well-being.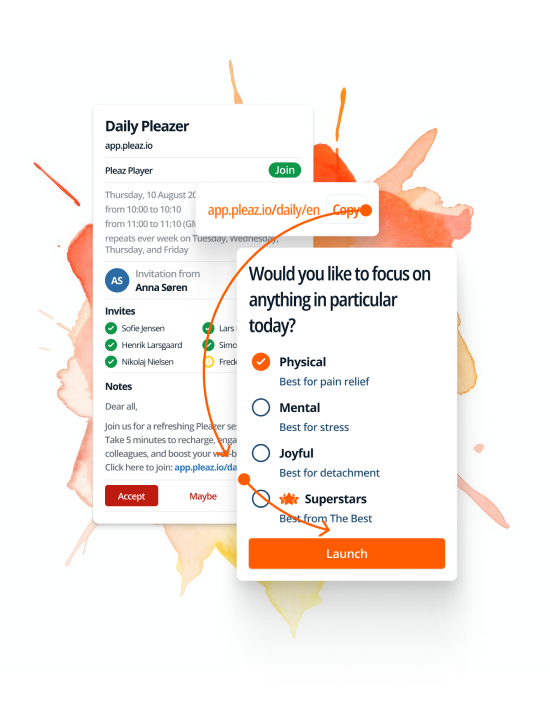 HOW WE HELP HYBRID TEAMS
Creating Healthy Habits
Our digital tool for desk workers enables hybrid teams to embrace healthy habits, engage with colleagues, and enhance wellbeing.
Our customers typically experience that 80% or more are still actively engaging in weekly activities after 6 months, leading to the creation and sustainment of Healthy Habits.

Automated & easy facilitation
Set it up once, and let let the product schedule and execute your wellbeing activities automatically

Integrated into hybrid calendars
Execute fun and active 5-minute group sessions, suited to fit into busy schedules with unlimited sessions
Getting your voice heard
Our voting section enables colleagues to directly influence the selected activity, democratizing the selected activities
HOW WE MAKE IT STICK
The Wellbeing Solution that actually gets used
Research shows that most wellbeing initiatives die out after 3 months. That's why everything we do, evolves around creating Healthy Habits for hybrid teams, with end-to-end support from our Wellbeing Advisors.
We help HR, P&C, and EHS professionals set up and maintain Healthy Habits for teams across organizations of all sizes, engaging up to 75% of employees weekly while letting you focus on your core tasks.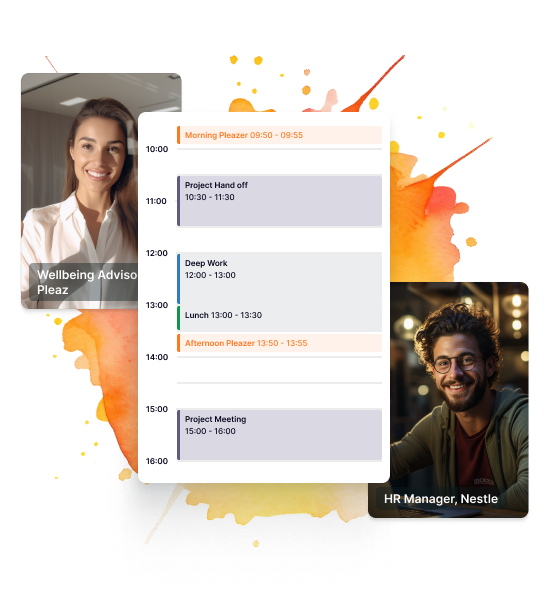 HOW WE CURATE OUR VIDEO-BASED ACTIVITIES
Industry-leading activities
Our Pleazers are led by industry experts and beloved celebrities, each specializing in different facets of wellbeing. Whether your team prefers training, stretching or meditating together, our world-class instructors have you covered with great content.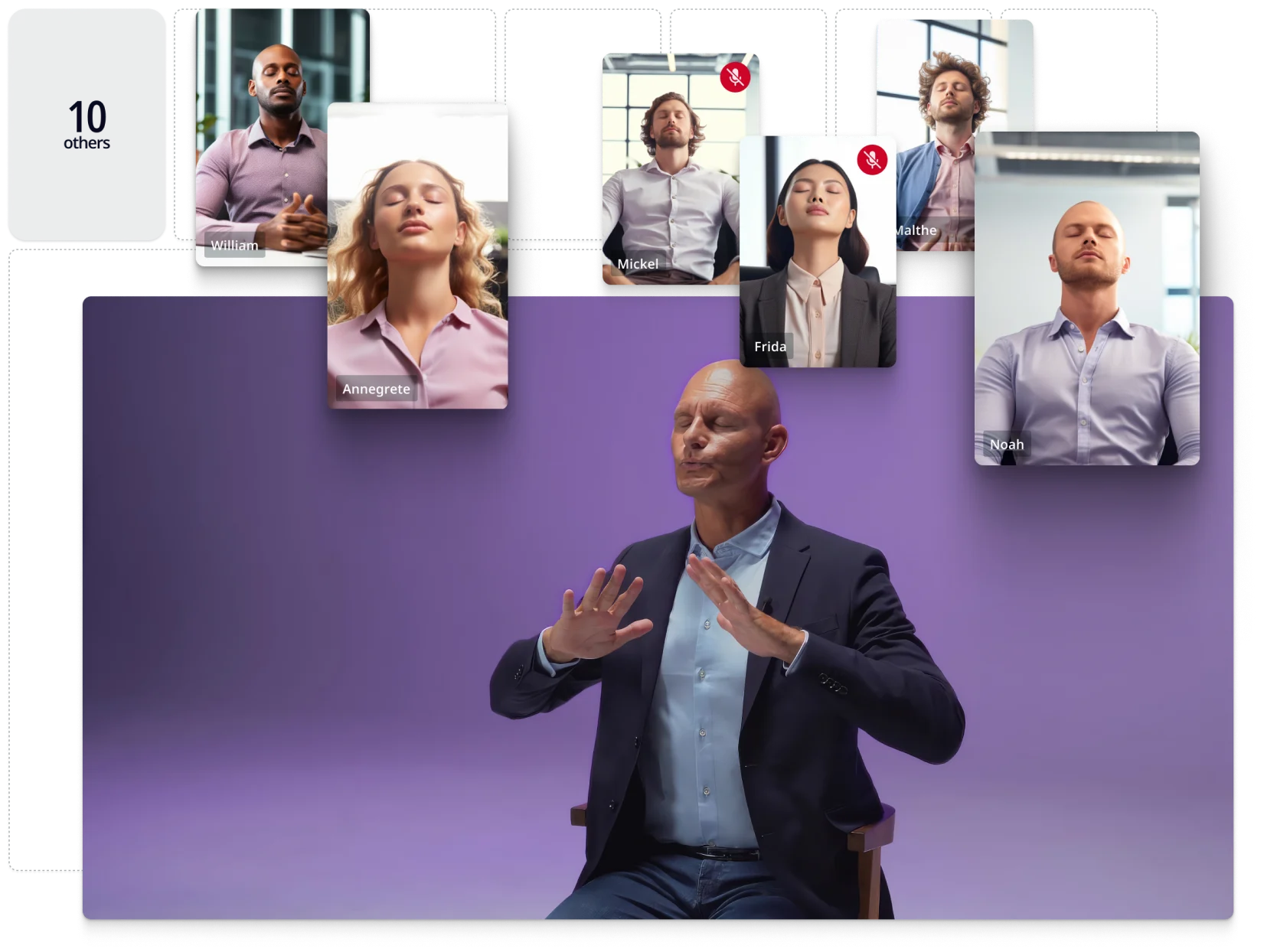 Ready to elevate your team's wellbeing?
Don't just take our word for it
We chose Pleaz because it is easy to build a routine. A Pleazer takes 2-5 mins and leaves you feeling refreshed
Even after 6 months we still experience great support for the small exercises and 80% still choose to participate
People are a critical to our business and culture, and Pleaz supports our existing wellbeing strategy with its digital approach to a healthy work environment
With a hybrid WFH schedule, active micro-breaks with Pleaz have been a great way to connect on the days we do not see each other in the office
Pleaz contributes to our health and wellbeing strategy, and helps remove the stigma associated with taking a break during a workday
Our employees feel fantastic and want to do cross-company social micro-breaks every day, to stay healthy and learn about group dynamics
Learn how Pleaz is being used in workplaces around the world
We've learned that happy and healthy employees bring better results and create stronger businesses.
Below you can learn more about how industry-leaders are already embracing Pleaz to accomplish this!
BENEFITS & PAY-OFFS OF HEALTHY HABITS
Scientifically addressing hybrid work challenges
Studies conducted on our users by the University of Copenhagen have confirmed the many benefits of doing Pleazers during a working day. Following recent research in the field, it proves how social activities can help modern workplaces solve the top four remote work challenges:
Ready to elevate your team's wellbeing?
Facilitated automatically and On-Demand. We've already helped 100s of Hybrid Teams create Healthy Habits, and we're more than happy to do the same for your team.